Human Resources Professionals Association (HRPA)
150 BLOOR STREET WEST, SUITE 200
TORONTO, ONTARIO
M5S 2X9
Tel 416.923.2324
Toll Free 1.800.387.1311
Fax 416.923.5696
Chief Executive Officer
BILL GREENHALGH, CEO
Tel 416.923.2324
Fax 416.923.7264
Email ceo@hrpa.ca
Annual Conference & Sponsorship
MARTA PAWYCH, CMM
Vice President, Annual Conference & Sponsorship
Tel .416.923.2324 ext. 323
Email mpawych@hrpa.ca
SHERRYDAWN WARREN, CEM
Manager, Annual Conference & Sponsorship
Tel 416.923.2324 ext. 345
Email swarren@hrpa.ca
MELISSA MCQUILLAN, CEM
Specialist, Trade Show
Tel 416.923.2324 ext. 347
Email mmcquillan@hrpa.ca
KEVIE CARR
Annual Conference and Sponsorship Specialist
Tel 416.923.2324 ext. 336
Email kcarr@hrpa.ca
Registration Questions Contact
CONEXSYS Registration
conferenceregistration@hrpa.ca
1.844.REG.HRPA (1.844.734.4772) Ext.0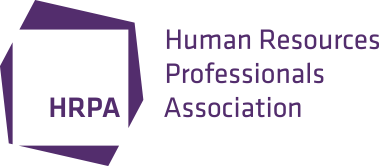 The Human Resources Professionals Association (HRPA) is the professional regulatory body and the professional association for Human Resources professionals in Ontario, Canada.It oversees more than 24,000 members across the province. It connects members with an unmatched range of HR information resources, events, professional development and networking opportunities and annually hosts Canada's largest HR conference. In Ontario, HRPA issues three levels of professional certification: the Certified Human Resources Professional (CHRP) designation for practitioners entering the profession and working in administrative capacities; the Certified Human Resources Leader (CHRL), for practitioners working in fully professional capacities; and the Certified Human Resources Executive (CHRE), for senior executives.
To learn more about our organization and the benefits of membership, visit www.hrpa.ca, or call 1-800-387-1311
The Future is Green and so is HRPA!
HRPA's 2017 Annual Conference & Trade Show is integral to our organization's drive for sustainability and every year we strive to produce a zero-waste event.
Sourcing Sustainable Suppliers
Wherever possible, HRPA works with suppliers and vendors who are committed to sustainability and eco-responsibility. Beyond competitive pricing, service and quality, we look for partners who think as green as we do in providing their products and services.
We're All in this Together!
HRPA's sustainability vision is "to ready HR professionals to lead sustainability change in the workplace by leveraging HRPA's reach, thought leadership and best practices."
Together we are building a Brighter, Greener Tomorrow